Our company has passed ISO9001 Quality Management System Certification
Author: Our website
Source: Our website
Time:2022-05-27
Our company has passed ISO9001 Quality Management System Certification
In March 2022, Hunan Jinkun New Material Co., Ltd. ushered in a number of reviewers of the quality management system audit institutions for our company to the first ISO9001 certification review.
In the review process, the expert group went deep into each department and production workshop, carefully checked the technical process and on-site production equipment, and reviewed our company through on-site questions, records and reports, documents and other forms.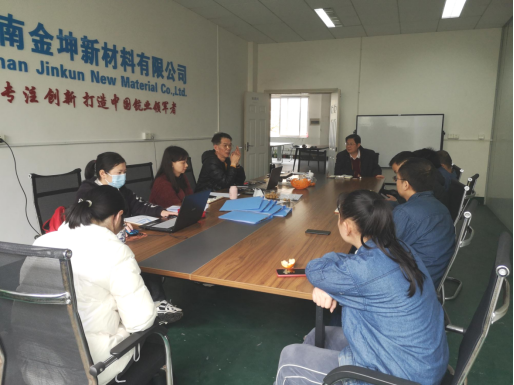 the scene photo
After strict audit, our company successfully obtained ISO9001 quality management system certification in April 2022.
This time through the ISO9001 quality management system certification, proved that Hunan Jinkun product quality control system and enterprise management system integration ability has reached the international standard.In strict accordance with the standards, through the systematic, scientific, standardized and institutionalized quality management, promote enterprise optimization and reasonable utilization of resources, improve the overall level of enterprise management, improve staff quality awareness and quality, improve the working efficiency of the enterprise, product qualified rate and customer satisfaction, and strengthen the confidence of partners, promote the competitiveness of the enterprise.
Through the ISO9001 quality management system certification, will always remind our company to continue to strive for excellence, more attentively manufacturing quality products, to meet customer requirements!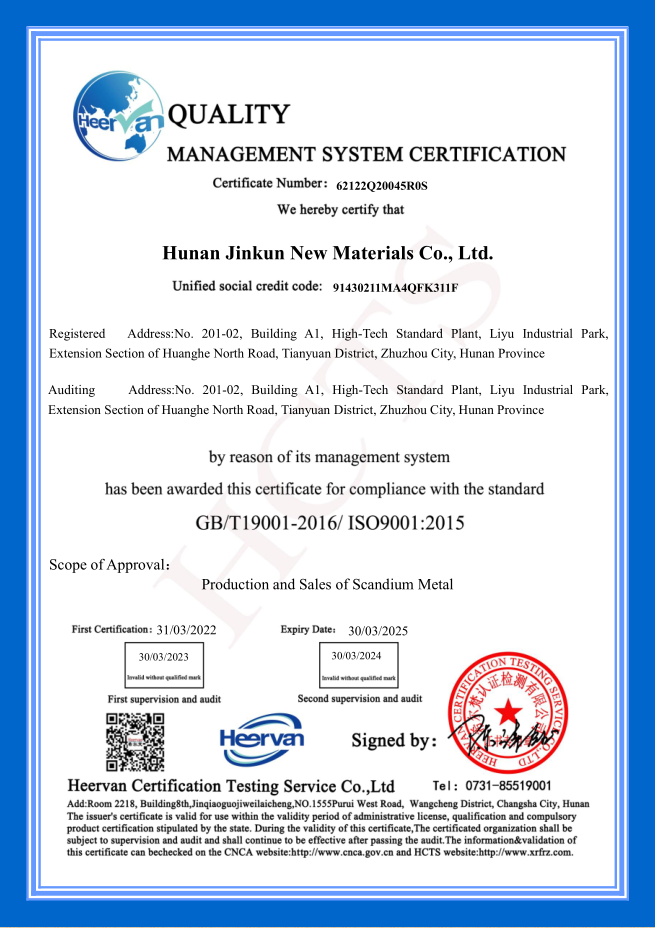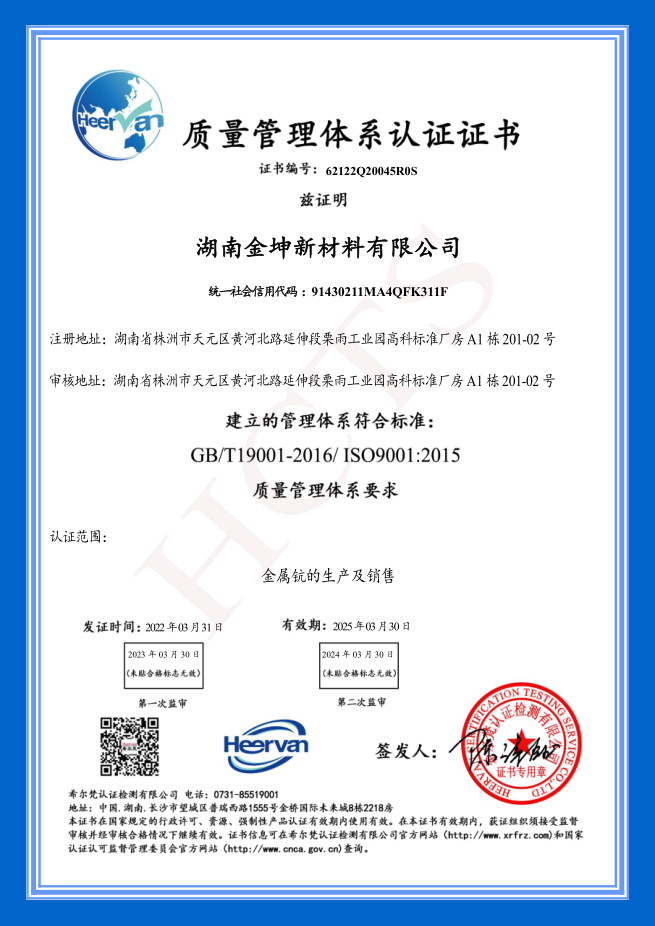 The certificate photos
Hunan Jinkun New material Co., LTD. Manufacturer advantage supply: scandium metal, scandium oxide, scandium metal powder, scandium fluoride, aluminum scandium alloy, scandium chloride, scandium nitride, hafnium dioxide, tantalum pentoxide, aluminum scandium target, scandium metal target, various scandium salt.
Precious metal powder processing ~~ low oxygen ultra fine hafnium powder, tantalum powder, welcome new and old customers to call negotiate ~ manufacturers direct sales, welcome your consultation. Win-win cooperation, create a better future!
Contact Number: 19907418001 Li (same as wechat)
Company official website: http://www.hnjkxcl.com
Customer demand is our goal, we have been working hard on the road......